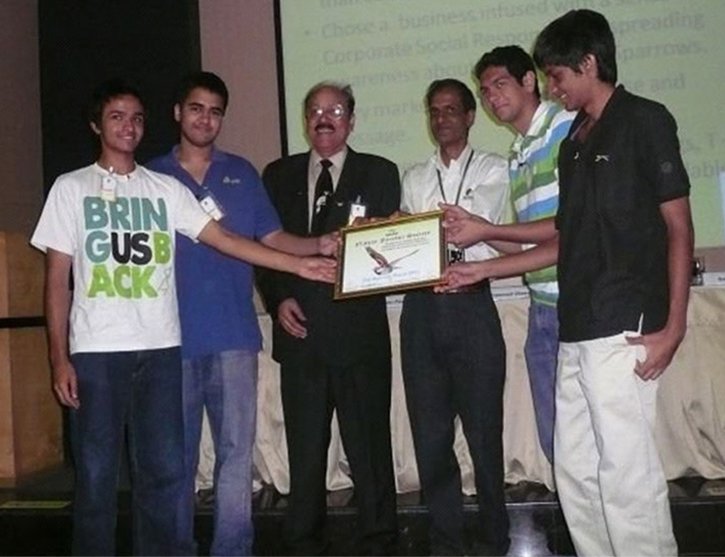 The Sparrow Company
30 dynamic students from Mallya Aditi International School
Sparrow Heroes: Green initiatives (Organisation)
When these 30 young adults, all in the age group of 17-something, from the popular Mallya Aditi International School, Bangalore, were asked to explore their business acumen in the Cambridge International Examinations(CIE)-endorsed Young Enterprise Programme, they decided to digress from the conventional views of entrepreneurship and invest in a green business instead.
Thus began Sparrow, a company by the 2011 senior class, a business infused with a sense of Corporate Social Responsibility, spreading awareness about the exodus of the cherished sparrows and offering simple solutions to bring them back.
"Bangalore used to have a lot of sparrows at one time, but today the birds have slowly left. The decline took place gradually, thanks to many factors like the rapid urbanisation of the city over the years. My generation feels a direct bond with the sparrows, as we have seen them slowly disapper right before our us, and this was the reason we decided to choose sparrow conservation as our business initiative," explains Priya Manwaring, the head of Sparrow.
In their neatly laid-out website, the students promote a select range of merchandise – aptly named "Sparraphernalia" – conceptualised and designed by them, and offered at very affordable prices. Their star product is "Sparradens", a portable wooden sparrow-nesting box that can be affixed to gardens, balconies and other convenient locations. Other merchandise include tees, flip-flops and coffee mugs, all embossed with unique designs, created by their own design team.
"We chose our merchandise carefully, to interest varied age groups – for examples: tees are loved by college students and coffee mugs attract office goers who keep them on their desks. The nesting boxes are however our prime product," Manwaring says.
Having started at around September 2010, the youngsters say they are seeing tremendous response from the people of Bangalore. "But the real excitement comes when people who bought the nesting boxes a few months ago call or write to us to say that their boxes have been occupied by birds. And that has been happening quite a few times these days," she adds.