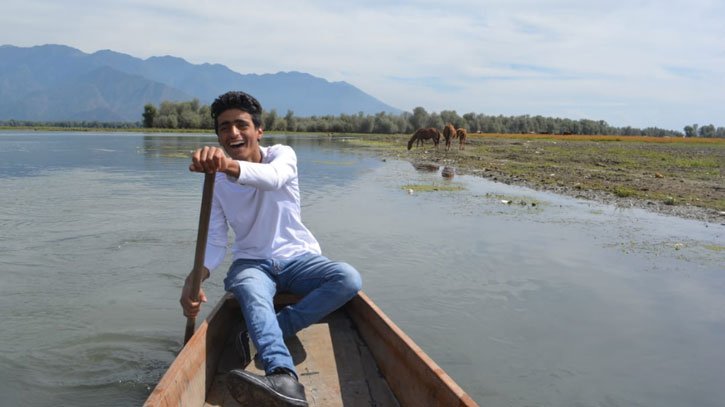 Plastic pollution is a major challenge facing the world today. Plastic pollution has spread its tentacles everywhere causing air, soil and water pollution. Our rivers, oceans and other ecosystems are choking with this monster pollutant.
While a majority of people are happy doing online activism, there are several ground heroes who are making a difference far and wide.

One of the key criteria for the Wipro-Nature Forever Society Sparrow Awards is to look for citizens who are not professional conservationists but still are making a significant contribution towards making the planet a better place.

The work done by them should be inspirational and innovative which people across the world could easily replicate and make a significant difference to their environment and the planet.

Bilal Ahmed from Kashmir is one such individual who took on the task of cleaning the Wular Lake, one of the largest freshwater lakes in Asia, located in the Bandipora district of Jammu and Kashmir. It was formed due to tectonic activity, following which the area covered by the lake varies throughout the year, a phenomenon which is unique to this destination. When the waters are serene and collected, the lake hosts a number of events such as boating, water sports and water skiing, making it a favorite picnic spot among locals and tourists alike.
Eighteen-year-old Bilal Dar has lived all his life on the banks of the Wular. Playing on the banks, he has noticed innumerable tourists visit the place and was also witness to the litter left behind by the tourists.
Losing his father at a very young age, Bilal had always wanted to support his mother and ensure that his little sister received the education he never got.
After seeing the lake constantly getting polluted by plastic, Bilal thought of taking things in his own hands and started cleaning the lake. It's been five years since Bilal began removing trash from the Wular and so far, he has cleared approximately 12,000 kg of trash from the lake.
Impressed with his work, the Srinagar Municipal Corporation made him its brand ambassador. Bilal has also received a special uniform and a vehicle to meet people and raise awareness of the need to conserve the environment and keep the surroundings clean.
Before he embarked on the task of cleaning the lake, Bilal worked as a mechanic at a garage and as a helper at a local tea shop. The Prime Minister's radio talk show "Mann ki Baat" made a special mention about Bilal's work as Swachch Bharath ambassador. He was also featured in a documentary called "Saving the Savior—Story of a Kid and Wular Lake," directed by Kashmir-based documentary maker Jalal-u-Din Baba.
When most kids of his age are hardly concerned about issues like the environment, here is a boy, with hardly any education working to rid his surroundings of plastic debris. NFS salutes Bilal who is an inspiration to not only children, but adults alike.
We hope citizens from all walks of life take inspiration from the monumental work Bilal Ahmed has embarked on and start making a difference to save Planet Earth and make it a better place.
The work undertaken by Bilal is inspirational and can be undertaken in any part of the world. Mother Earth needs more sons like Bilal Ahmed.