abdul kareem the forest man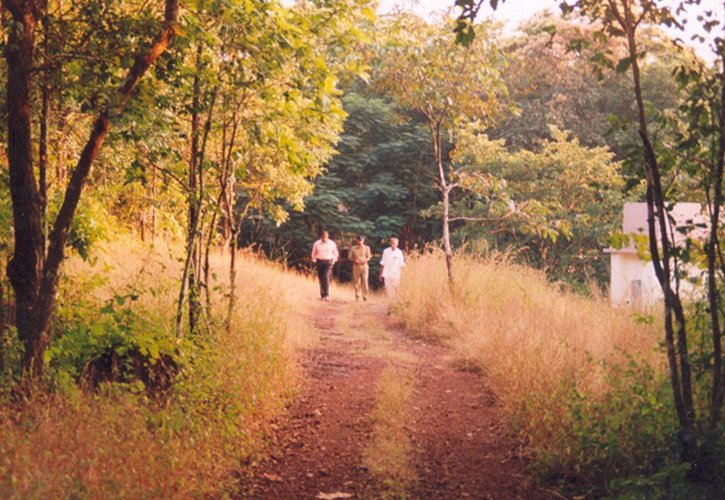 The "forest man" is an apt title for 69-year-old Abdul Kareem who converted 32 acres of barren land in a village called Puliyamkulam in the district of Kasaragod in north Kerala into a dense forest. After working in Bombay and Dubai, which he characterized as concrete jungles, Kareem was yearning to reconnect with nature when he returned home in the 1970s. Without any formal scientific knowledge, he evolved his own techniques and procedures and successfully established a dense forest on 32 acres of barren land.
Kareem initially bought 5 acres of barren land for Rs 3,750 in 1977, as his family and friends watched in horror, and began planting saplings of native plants in crevices between laterite rocks. He also made deep holes on the rocks to plant the saplings of selected species. He would ferry water from a village more than a kilometre away during the summer to water the plants. However, none of the plants survived after a year.  But that did not deter Kareem. He spent all his hard-earned money and bought an additional 27 acres of rocky slope and continued to plant a variety of plants. "If I planted 100 saplings, one would survive but I was determined not to give up," he said. He began the whole exercise again and continued planting saplings until his efforts began bearing fruits after five years.  He adopted soil and water conservation techniques by digging catch pits and raising walls with rock pieces across the slope so that the soil carried by run off water got deposited gradually over the rocky substratum.

He kept water in small pots randomly to attract birds.  Gradually they became regular visitors and also helped in introducing several new plant species by dispersing the seeds and his tree count multiplied by leaps and bounds. Butterflies, squirrels, moths and beetles begin to throng the forest, followed by hares, fowls and other small mammals. Peacocks, wild boar, monkeys, snakes and jackals, you name them and they are present in the Kareem's forest, including Kerala's State bird the Great Hornbill. Meanwhile, the water table within a 10 km radius began to rise.

Kareem's forest is not merely a collection of trees, but a chain of mutually interacting living organism that evolved into a self-sustaining eco-system.  He learned that human interference beyond a certain extent would adversely affect eco-systems.  He believes that man should act only as a vigilant facilitator and let the eco-system develop on its own.
Today, Kareem's forest is home to more than 800 plant species, 300 medicinal plants, thousands of species of birds and insects as well as mammals, very much like a naturally occurring forest, and attracts researchers, students and environmentalists from across the world.